Tradicionalni ples/Traditional Dance of the Western Balkans
July 3 @ 20:00

-

July 5 @ 21:30

CEST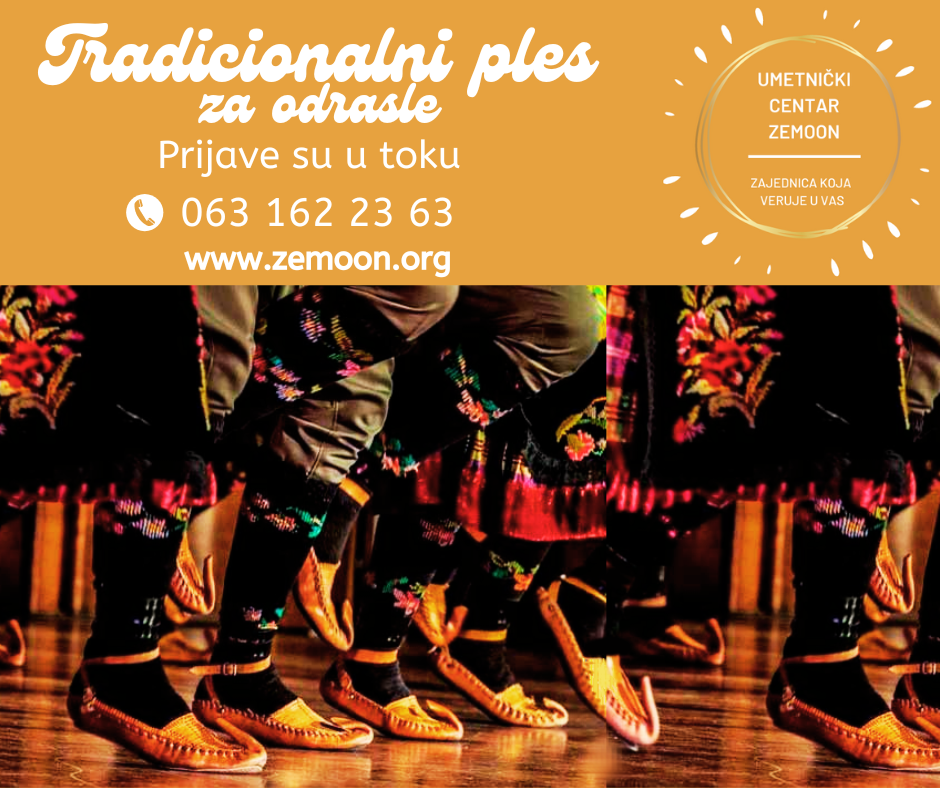 BAVIMO SE PLESOM!!!
Cilj radionice je sticanje veština iz tradicionalnih plesova zapadnog Balkana: srpska kola, Nišava, šopske igre, Banat, vranjanska svita i čočeci, vlaške igre, Vojvodina, primorska poskočica Linđo, makedonsko oro, crnogorsko oro, nemo kolo, albanska šota, romska igra, Ero s onoga svijeta, itd. Časovi su predviđeni za sve koji su želeli da zaplešu tradicionalne plesove, ali nisu imali prilike ili je bilo prekasno da se učlane u neko Kulturno umetničko društvo. Na ovim časovima bavićemo se ritmom, sinkopama, stilovima, uticajima i karakteristikama tradicionalnog plesa koji izučavamo.
Dobrodošli su svi koji žele da igraju.
Pedagog: Marina Đurić
Trajanje : 90 minuta, dva puta nedeljno.
Termin: ponedeljak/sreda od 20-21:30h
WE DO DANCE!!!
The aim of the workshop is to acquire skills from the traditional dances of the Western Balkans: Serbian kola, Nišava, Shopske igre, Banat, Vranjanska svita and čočeci, Vlach dance, Vojvodina, coastal bounce Lindjo, Macedonian oro, Montenegrin oro, silent kolo, Albanian shota, Roma dance, Hero from the other world, etc. The classes are intended for everyone who wanted to dance traditional dances, but did not have the opportunity or it was too late to join a Cultural Art Society. In these classes, we will deal with the rhythm, syncopation, styles, influences and characteristics of the traditional dance we are studying. Anyone who wants to dance is welcome.
Teacher: Marina Đurić
Duration: 90 minutes, twice a week.
Days and Time: Monday/Wednesday from 8-9:30 p.m