Karakterne igre/Character dance
July 4 @ 20:00

-

July 6 @ 21:30

CEST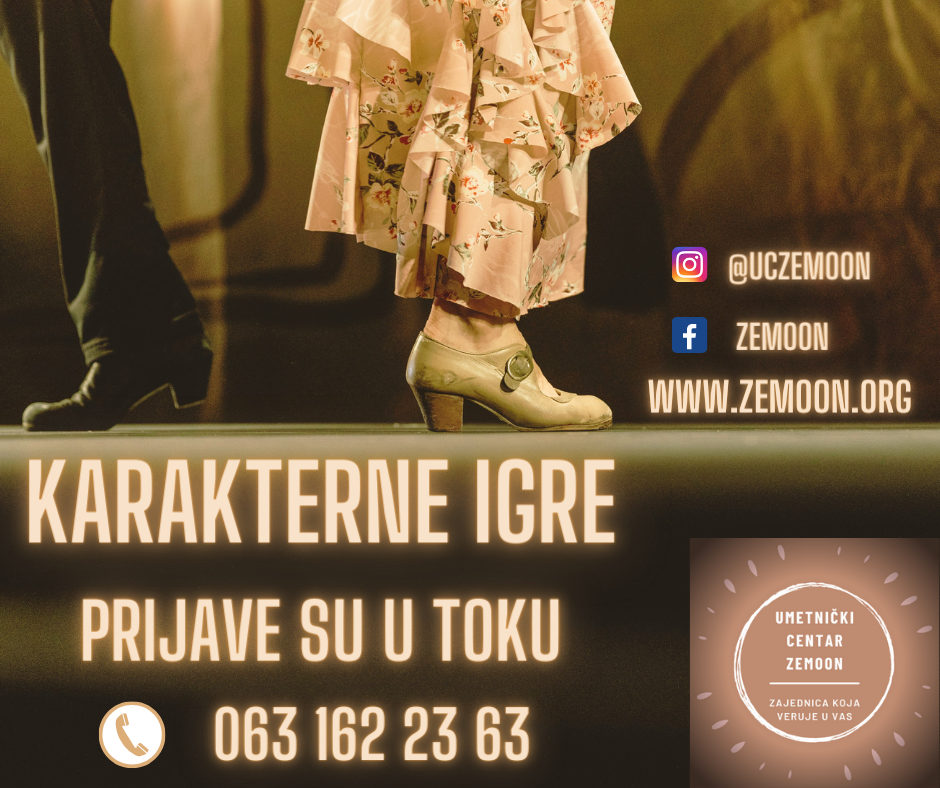 BAVIMO SE PLESOM!!!
Karakterne igre su neizostavni i veliki deo klasičnog plesa, odnosno to je stilizovana predstava tradicionalnog narodnog ili nacionalnog plesa, uglavnom iz evropskih zemalja: Rusije, Poljske, Mađarske, Italije i Španije. Karakterne igre su sastavni deo većine klasičnog baletskog repertoara, s toga je najbolje za ove časove imati plesno predznanje. Čas se sastoji od osnovnih  vežbi za štapom, prema tradicionalnom i tačno određenom redosledu, vežbama i koracima na sredini, pa sve do složenijih pokreta, koraka i koreografskih celina. Učićemo ruski Kazačok, poljsku Mazurku, mađarski Čardaš, španski Pasodoble i italijansku Tarantellu napoletanu.
Pedagog: Marina Đurić
Trajanje : 90 minuta, dva puta nedeljno.
Termini: utorak/četvrtak od 20-21:30h
WE DO DANCE!!!
Character dance are an indispensable and large part of classical dance, it is a stylized performance of traditional folk or national dance, mainly from European countries: Russia, Poland, Hungary, Italy and Spain. Character dances are an integral part of most classical ballet repertoire, so it is best for these classes to have dance knowledge. The class consists of basic stick exercises, according to the traditional and exact order, exercises and steps in the middle, all the way to more complex movements, steps and choreographic units. We will learn Ukrainian and Russian Kazachok, Polish Mazurka, Hungarian Czardas, Spanish Pasodoble and Italian Tarantella Napoletana.
Teacher: Marina Đurić
Duration: 90 minutes, twice a week.
Dates: Tuesday/Thursday from 8-9:30 p.m